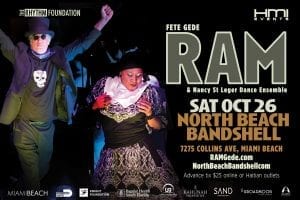 Haitian 'voudou rock & roots' group RAM is the house band from the
mythic gingerbread Oloffson Hotel in Port-au-Prince. Led by Richard
and Lunise, RAM's regular Thursday night shows have been legendary for
more than 30 years.  The sound of RAM is a unique mash-up of mizik
rasin (Haitian roots) folkloric and hypnotic ceremonial rhythms, along
with elements of Haitian kompa dance beats, funk and a dose of rock
and roll.  The band draws from a powerful rara horn section and
percussion and guitars. They visit the Bandshell in Miami Beach on
Saturday October 26 for a pre-Gede celebration, part of their landmark
"Dreams Come True" US tour.
Nancy St Leger Dance Ensemble is the Little Haiti-based Haitian
folkloric 12-member company founded by dancer and educator Nancy St
Leger. Her favorite dances are what she called 'warrior dances' – ibo,
petro and nego.  She teaches purely Haitian folkloric dance styles
every Saturday at the Little Haiti Cultural Complex, accompanied by
live percussion. Some recent celebrity sightings for the group have
included their part in Rihanna and DJ Khaled's video "Wild Thoughts",
appearing on Black Ink Crew Miami, on stage with Arcade Fire during
their last visit to Miami, and with Harmonik at CompasFest. The
group's signature costumes are hand-sewn by mama Nyrva St Leger!
Tickets are on sale at NorthBeachBandshell.com, or in person at
Kompa City, 14744 NE 6th Ave, North Miami
Touche Douce, 13910 NE 12th Ave, North Miami
Libreri Mapou, 5919 NE 2nd Ave, Little Haiti Miami, FL 33137
Le Lambi Miami,13720 SW 88th St, Miami
Chez Guyto, 6520 Pembroke Rd, Miramar,
Kasa Champet, 7920 Pines Blvd, Pembroke Pines
Best Barbershop, 4257 North State RD 7, Lauderdale Lakes
Pearl of the Island Caribbean Cuisine,1490 FL-7 Bay A, Margate
Phenix Unisex Beauty Salon, 750 E Sample Rd, Pompano Beach
Presented by The Rhythm Foundation in partnership with HMI LLC