When:
November 16, 2013 @ 8:00 pm – 11:00 pm
2013-11-16T20:00:00-05:00
2013-11-16T23:00:00-05:00
Where:
Rose & Alfred Miniac Performing arts center
3100 Ray Ferrero Jr. Blvd. Ft. Lauderdale
Fl. 33314
Cost:
$ 40.00 and $ 15.00 for students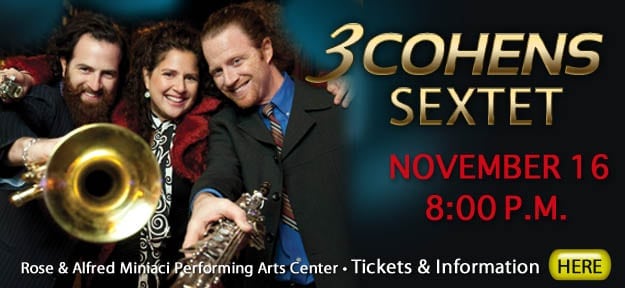 The best jazz groups are made up of kindred spirits, but the rare family band has something more – an intuitive feel for each other that goes beyond words and gestures to a kind of telepathy. The 3 Cohens are that sort of uncommon collective, a trio of siblings from Tel Aviv, Israel – tenor saxophonist/clarinetist Anat, trumpeter Avishai, and soprano saxophonist Yuval – whose sense of improvisational interplay is both uncannily fluent and wonderfully, infectiously warm. Along with performing on stages the world over, the 3 Cohens record together on Anzic Records, the most recent being the acclaimed Family that features the three Israeli horn players in league with pianist Aaron Goldberg, bassist Matt Penman, and drummer Gregory Hutchinson. Family underscores the fact that even with the individual careers
each of the Cohens pursues to increasing international success, there is something special about the music the three make together.